Smart Power Quality Correct Device(SPC)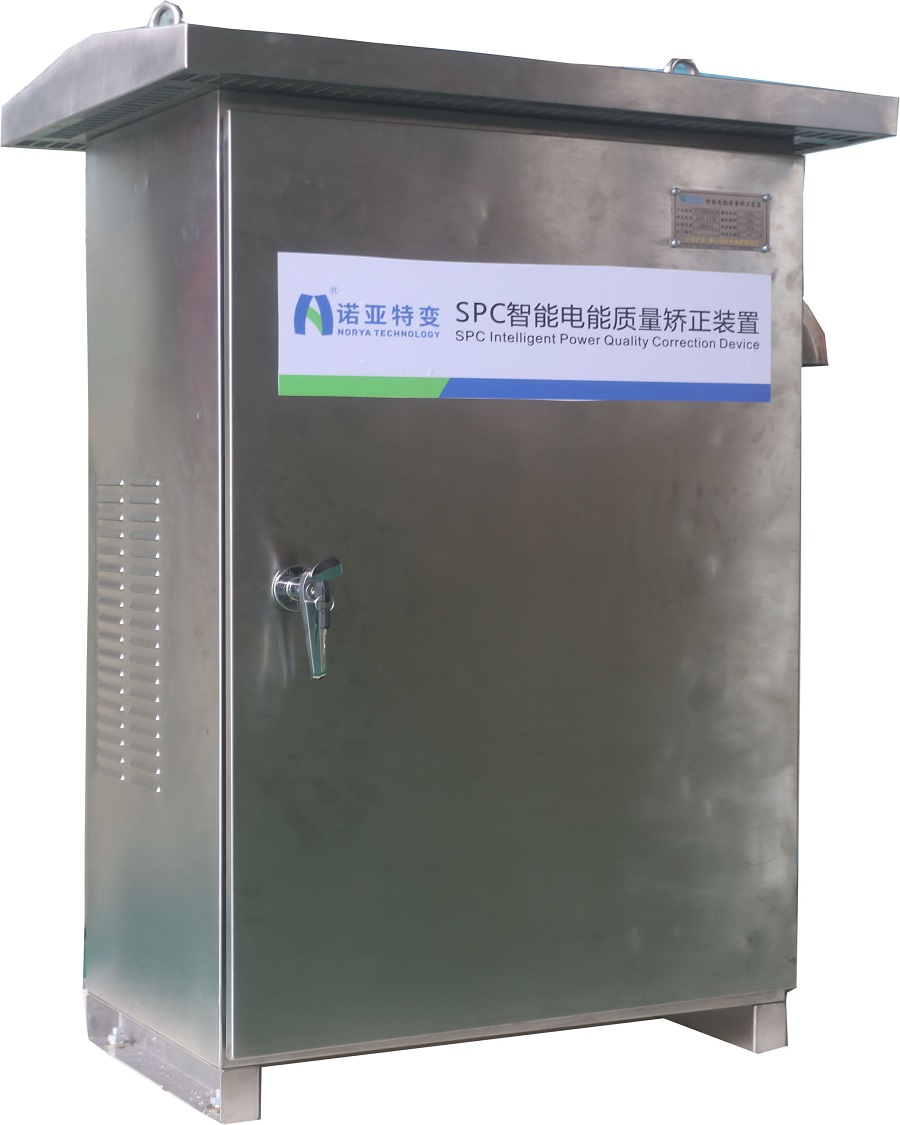 Product overview:




It is mainly used in the user side of low-voltage distribution to control unbalanced three-phase current, low phase voltage and compensate reactive power, and optimize power quality. Three-phase unbalanced current and reactive power can be compensated simultaneously to realize continuous and dynamic compensation.



| | | | | |
| --- | --- | --- | --- | --- |
| | | | | |
| NY50SPC44FC | NY75SPC44FC | | NY100SPC44FC | |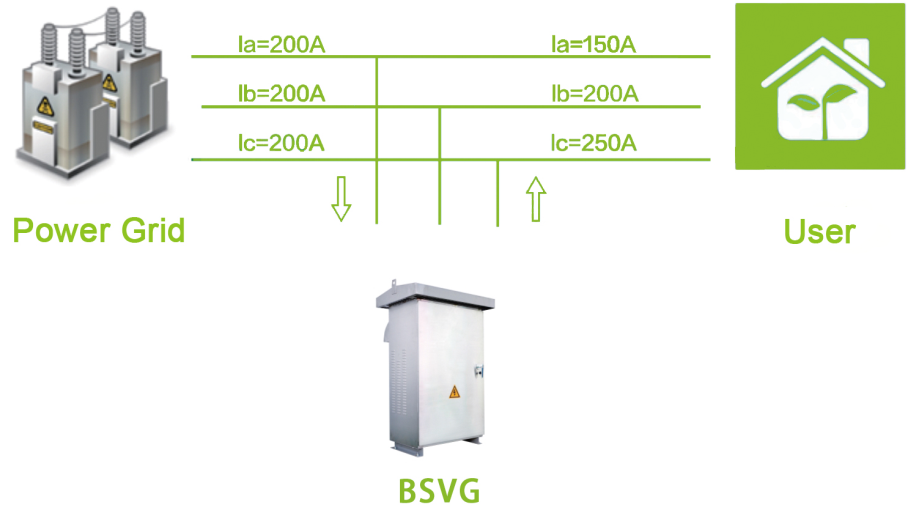 SPC Working Principle:




Three-phase imbalance compensation principle

SPC monitors load current in real time through current transformer, and through the internal DSP processing and analysis, the compensation current needed for each phase of the equilibrium state is calculated. Then drive the IGBT output, the unbalanced current is transferred from a phase with large current to a phase with small current to achieve three-phase balance.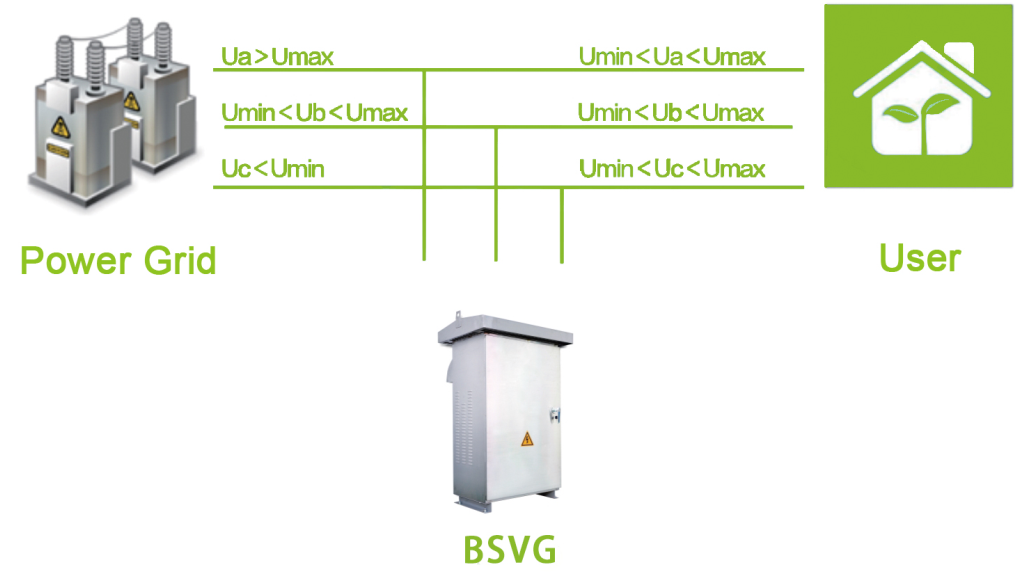 Three-phase voltage support principle

BSVG sampling compensating point voltage, through the internal DSP processing and analysis, when the voltage exceeds the upper limit of voltage regulating (Umax), the BSVG outputs inductive current and reduces the voltage; when the voltage is below the lower limit of voltage regulating (Umin), the BSVG outputs capacitive current and raises the voltage, to ensure the voltage of each phase is within the normal range.
Product model naming rules:
Technical Parameter:
Item

Item description

Electrical specifications

Capacity

35kVar~100kVar

Voltage level

380V/400V

Wires

Three-phase three-wire / Three-phase four-wire

Frequency

50±5Hz(User set)

Efficiency
Up to 97%

CT ratio range

150:5~6000:5

Rated current

50A~150A(Depending on the model)

Unbalance compensation rate

>95%

Power factor correction

-1~+1 adjustable

Reactive power compensation capacity

35kVar~100kVar

Total response time

<15ms

Fundamental reactive power compensation rate

>99%

Protective function

Overvoltage, undervoltage, short circuit, lightning protection, over compensation, IGBT over temperature and so on

Communication interface

Communication interface

RS232/RS485/Ethernet/GPRS

Communication protocol

Modbus

Environmental specifications

Storage temperature

-20°C~+70°C

Working temperature

-10°C~+40°C

Working elevation

Below 1000 meters. Derate when higher than 1000 meters, derate 1% for every 100 meters increase.

Degree of protection

IP44

Mechanical specifications of modules

Seismic capacity
Magnitude 8

Colour

Stainless steel colour

Weight

25KG~50KG(Depending on the model)

Installation method

Indoor or outdoor, floor type or hanging type

Cooling method

Intelligent air cooling

Optional accessories

Option

Air heater/GPRS
SPC Product Features:
A reactive power compensation product which considering harmonic compensation

The main compensation for reactive power and three-phase imbalance

Support low-order (3,5,7,9,11 orders) and small capacity (50% of rated power) harmonic compensation.

Safety and excellent reactive power compensation effect

BSVG can realize real-time dynamic stepless adjustment, no overcompensation, undercompensation

BSVG is a controllable current source device that mechanically avoids resonance phenomena

Modular design to achieve component-based product applications

BSVG uses modular design and cabinet installation design, easy to install



The benefits of managing power quality
Governance of three-phase imbalance

To avoid local heating and aging of the midline effectively , and even the risk of fire;

To avoid equipment false alarm caused by partial voltage unbalance;

To avoid the risk of burning vulnerability equipment of control system caused by zero ground voltage is high.
Related products

| | | | | |
| --- | --- | --- | --- | --- |
| | | | | |
| Filter Compensation Cabinet | Active Power Filter | Static Var Generator | | |