Static Var Generator(SVG)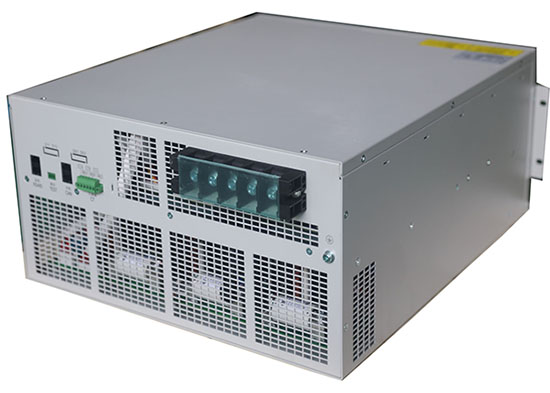 Product overview:




Static Var Generator, abbreviated as SVG. Also known as dynamic reactive power compensation generator, or static synchronous compensator. A self-commutating power semiconductor bridge converter is used to compensate dynamic reactive power.



| | | | | |
| --- | --- | --- | --- | --- |
| | | | | |
| NY50S44FC | NY75S44FC | | NY100S44FC | |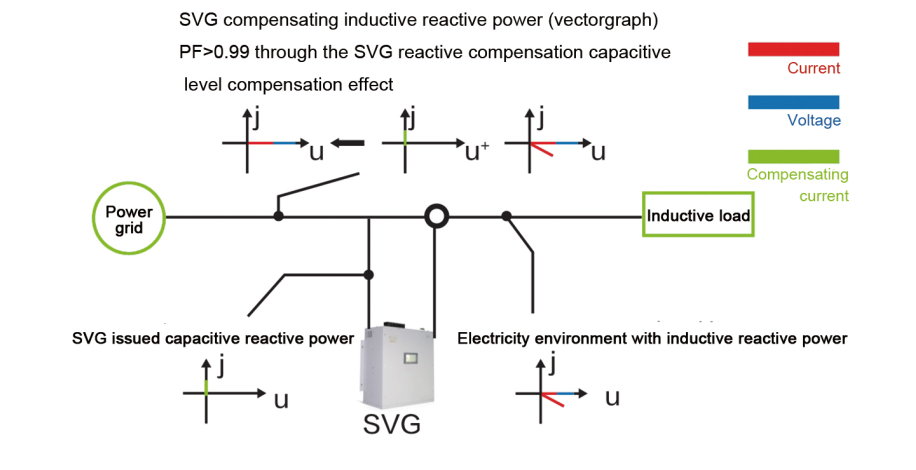 SVG Working Principle:


Norya series Static Var Generator through the external current transformer, monitoring load current in real time, and through the internal DSP calculation to analyze the reactive content of load current. Then according to the set value to control the PWM signal, which sends control signal to the internal IGBT so that the inverter produces reactive power compensation current to meet the requirements to achieve the purpose of dynamic reactive power compensation.
Product model naming rules:
Technical Parameter:
Item

Item description

Electrical specifications

Input line voltage

380V±15%

Number of phases

Three-phase four-wire;Three-phase three-wire

Capacity

20~100kVar(Depending on the model)

Frequency

50/60±5Hz(User set)

Response time

<15ms

Power factor correction

-1 to 1 adjustable

Multiple operation

Up to 8 modules in parallel

Efficiency
Up to 97.5%

CT ratio range

150:5~6000:5

Dry contacts

EPO/DI/DO

Communication interface

Communication

RS232/RS485/Ethernet/GPRS

Usage areas

Indoor, without direct sunlight, no dust, no corrosive and flammable gases, no oil mist, no water vapor, no drip or salt etc..

Environmental specifications

Working elevation

Below 1000 meters. Derate when higher than 1000 meters, derate 1% for every 100 meters increase.

Storage temperature

-20°C~+70°C

Working temperature

-10°C~+40°C

Humidity

Less than 95%RH, without water droplets condensation.

Vibration

Less than 5.9 m/s2(0.6g)

Structure

Degree of protection

IP20

Colour

7035 gray /7021 black (Customizable)

Net weight

20KG~50KG(Depending on the model)

Cooling method

Intelligent air cooling
SVG Product Features:






Traditional reactive power compensation is prone to over or under compensation.




In SVGC, SVC performs stage-level switching compensation.




SVG module performs blind spot coverage to realize stepless switching.



Users can flexibly configure the SVG module and SVC according to the requirements, and realize the application advantages in different aspects
Performance advantage: SVG enables SVGC compensation range from -1~1 to compensate for blind spot coverage simultaneously
Optimize the investment recovery: According to different compensation needs to customize different product mix, to achieve the best investment recovery
Expand the coverage of the application industry: Compared with the pure SVC, it can be applied to the occasions that the load reactive power rapidly changes so that the application industry is expanded
The benefits of managing power quality:

Governance of reactive power

To reduce the cost of enterprise electricity;

To improve the power factor and avoid fines from the power sector;

To reduce line loss and occupancy of the upper level transformer capacity;

To reduce the loss of active power and voltage drop, release the transformer and generator capacity.
Related products

| | | | | |
| --- | --- | --- | --- | --- |
| | | | | |
| Filter Compensation Cabinet | Active Power Filter | Smart Power Quality Correct Device | | |